---
---
---
Cognitostructura, Stock Exchange Centre Gallery, Warsaw, Poland
Exhibition finished
Exhibited: 17 October - 4 November 2022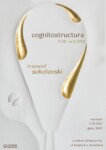 The exhibition 'Cognitostructura' will present reliefs by Krzysztof Sokolovski inspired by the spiritualising power of natural mysteries and the desire to unravel and learn about them. The gold used in the works, referring to the Byzantine tradition, symbolises the metaphysical world, but in this case it is the as yet unconquered empirical knowledge, or the desire to acquire it.
Read more
---
You are not logged in
You can buy without logging in, but the account allows you to control your orders, manage payment and delivery addresses, manage your password and account details and easily ask for works in the gallery. Customers with accounts include special discounts and promotions. Registration in Bohemia is only one click away. Perhaps you would like to log in now, or register?