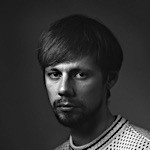 Krzysztof Sokolovski
Born 1985, Eišiškės, Lithuania
Creator of the concept and idea of neo-sacral art, creator of contemporary sacred and secular interiors.
abstract art
new icon
MFA, M.Sc. Eng. Krzysztof Sokolovski – born in 1985 in Eišiškės in Lithuania. He is the creator of the idea of neosacral art, visual artist, author of contemporary sacral interiors, illustrator. His views about reality resulted in visual form, which is a common denominator of empiricism and spirituality. It is also a philosophical-theological view, which is a bridge between strictly scientific reasoning and the emotional-spiritual dimension of human.
In 2003, due to help of MFA Anna Szpadzińska-Koss and Paderewski Scholarship, he moved to Danzig (Gdańsk). There he continued attending school, while he was learning to paint and draw. In 2009, he graduated from the Gdańsk University of Technology with a degree in thermal power engineering. He remained at the university and taught there. He participated in scientific research of heat recovery under dr hab. Marek Jaskólski's direction. At the same time, he began studying at the Faculty of Painting at the Academy of Fine Arts in Gdańsk. He attended the studio of dr hab. Jacek Kornacki, who helped him to discover an artistic path inspired by science. In 2011, he additionally attended the course of clinical anatomy at the Medical Academy in Gdańsk. He passed an access course and then was allowed to attend a course in a dissecting room, where he drew studies of human internal body structure. He passed a human anatomy exam with a result of A plus. He still occasionally does anatomical-illustration work in collaboration with PZWL and the Department of Human Anatomy at the Medical University of Warsaw. In 2013, he moved to Warsaw and there graduated from the Academy of Fine Arts. He got MFA degree with honours for the final master's project created in the studios of Prof. A. Rysiński (easel painting), and Prof. E. Tarkowski (monumental painting). His master's project was presented at the exhibition The Best Master's Theses of Academy of Fine Arts in Warsaw "ComingOut 2014" and gained a distinction in the competition The Best Master's Thesis of Academies of Fine Arts in Poland ArtNoble 2014. In 2013-2016, he cooperated with Łukasz Majcherowicz PhD on polychromes of sacral interiors. Due to that, he learned rules of monumental compositions and holistic understanding of large interiors. Since 2016, he works individually.
Sokolovski's major realised monumental projects are the Neosacral Chapel in the Order of Malta in Klebark Wielki (Poland) and the Chapel of Peace (Cappella della Pace; collaboration with Joanna Mazuś) in the Salesian Sisters Convent in Jerusalem.
While I was spending countless hours on observation of nature, I noticed that in my heart rises concentration on the beauty of the visible world. Gradually expanding knowledge about the functioning of the world gave me sensibility, which I could call cherishing any form and its laws. Like everybody, since birth, I am steeped in culture and also in its spiritual and religious dimension. Due to this dimension, I realised that there is a way of material essentialising mystery, which, in my heart, generates love for the beauty of being, or is this beauty and love.
It impelled me to create a visual form able to merge human predisposition to spirituality and knowledge of the material world. I termed it "neosacral art". Cultivating such a way of thinking and representing it in paintings and spatial objects led me to the moment when I should try to word laws, under which the above-mentioned visual form comes into being. My artistic attitude is determined by five laws now. However, to understand where these laws come from, we would need a much more expanded description and theoretical analysis.
The first law:
Mind, which developed as a result of evolution of nature, is an accurate reflection of nature, as well as of the entire past and creative potential of the future, in which nature will exist. Mind is originally given to us as an evolutionarily beneficial instrument of survival. Today it has the ability to understand the world in its visible as well as hidden from our senses form. Emotionality and knowledge are able to materialise aspects of reality, which are imperceptible for senses (and therefore immaterial for us) and are as real as sensually perceptible beings.
The second law:
Attempt to understand the world is the only true and congruent with our nature prayer. The core of our mind is the responsibility for capturing the way the universe exists. Thus we are also responsible for understanding manifestations and materialisations of invisible yet possible in this universe things.
Exemplary evincing of these possibilities and the realised in us creative potential of the universe is technological advance, artistic progress etc.
The third law:
Evidence of existence or nonexistence of any form of the essence of the Creator is unnecessary and has no sense because we ourselves and our whole environment, which affects us, have created and are still creating us. We are the incarnated Word, which was in the beginning, and now is a body, that we can study and cognise. At present, the Word exists only in this body, therefore the essence of "the Creator" is in us and our whole environment. It was never such close. Thus we should respect the world and inhabiting it creatures as we respect our God and ourselves.
The truth about the first Word, which still lasts, can be told us only by science in its noble and wholly dedicated to truth form, and arising from it conclusions: logical, philosophical, artistic, as well as religious etc.
The fourth law:
Human is not and cannot be a creator of the new because, as a result of the evolution of the universe, he possesses conscious and incarnated creative potential of this universe – he is somewhat a conglomeration of matter, in which this potential is contained. On this account, he should not claim credit for creating something that already exists. He does not create anything that could not come into being in this world. The only human powers are deep cognising and becoming aware of the truth. They should lead to as pure as possible depiction and materialising the truth in increasingly fine forms, works until it reaches a form of complete being. An example of such being can be a combustion engine, which form is entirely adjusted to the potentiality of nature and knowledge of it at a given time and place. An artwork, which materialises our spiritual feelings at a given time and place, should be such kind of being as well.
The fifth law:
True art, in the narrow and highest meaning of this word, is art, which becomes a material body of still sounding Word-Creator. Artistic work is laborious scientific work, which has to be completely open to intuition but also has to be subject to strict methodological rules. It is necessary for us – humans. The human is for human and for no one more.
The fruits of these laws are a particular artistic and spiritual attitude. It comes from the natural course of events and should originate from its time and place, if it thus far did not spring into being, or should be reborn. It may happen due to this or another person.
I think the sense of such attitude resides in easing continuation of our advance as a civilisation, which is capable – or at least has potential – of enhancing degree and quality of reflection of the universe in our mind. This attitude is congruent with goals such as emigration to interplanetary and perhaps interstellar space. We are becoming carriers of the great wisdom of the universe, which will be concentrated in our brains and who knows if it will not get an independent form, which is now a scientific fantasy called "artificial intelligence".